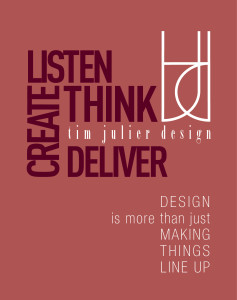 There can be no hard and fast rules for successful design, but Tim has found the most effective approach for any project is defined by the client's corporate identity and brief, however simple or complex that may be. He can then respond positively by introducing elements of colour, excitement and surprises the client may not have previously considered.
The essential basis he strives to achieve is in building partnerships with his clients, breaking down the 'us and them' barriers to ensure clear, unclouded communication at all stages of the project. Tim believes his designs bring a freshness, elegance and attention to detail to both his long-established and more recent clients as a result of such partnerships.



"The advertisements that you designed for the Summer/Autumn season really worked a treat.
I look forward to working with you again very soon" – K.R.